You know by now how we like to mix things up from month to month. Our April 3st of the Month just happened to fall on Good Friday, so we knew we had to make it special. As usual, the planning began months in advance but everything came together when we found the space. Towering above downtown Nashville, the CitySpace offices are housed above the Renaissance Hotel. Lucky for us, they're in the middle of remodeling and had gutted the 30th floor and were eager to host our boozy group on a Friday night. The generosity of CitySpace helped us raise even more funds for our charity partners. See a 360-degree tour of the space here.
This month we were able split the proceeds from the night with two local causes. The Nashville Fashion Forward Fund is dedicated to supporting the next generation of fashion industry professionals with ties to Middle Tennessee. Their their annual event, Nashville Fashion Week, fosters Nashville's heralded community spirit, and our concentration of creative, fashion-forward and entrepreneurial talent, to create a one-of-a-kind event that is uniquely Nashville. NFW 2015 takes place April 7-11. Learn more and get your tickets to NFW here. The second cause, Nashville Cares, has provided education and direct services in Nashville since 1985. Originally created to help raise awareness of the HIV/AIDS epidemic, they now work with many communities in Nashville providing prevention education and reach 45,000 youth and adults annually. Learn more about Nashville cares here.
As if the thunderstorm and tornado sirens going off an hour before start time didn't add enough suspense to the night, the event was held in a secret location. Ticket holders got an email with a map and instructions that led them down an alley where they would meet a security guard who would put them on a freight elevator to head up to the party. After following a series of arrows, they checked in, grabbed a glass and entered what might just be our most memorable location yet. Raw concrete floors, industrial beams and exposed ceilings were balanced with chandeliers from Nashville Audio Visual, and all the grape-themed booze your liver could handle.
Seeing as April is also National Grilled Cheese Month, it seemed only natural to have Nashville's favorite food truck folks, The Grilled Cheeserie, offering up special bites for the night. The crew excelled (even while cooking on makeshift equipment!) by offering a trio of tasty goodies. The Grilled Cheeserie is celebrating Grilled Cheese Month with a series of "Chef De Grilled Cheese Melts," created in partnership with some of Nashville's favorite local chefs. Lucky for us, we got to try one as part of the night's menu:
Josh Habiger's "Chef de Grilled Cheese" Melt: Sharp Cheddar, Tennshootoe, Apple, Fernet Jam on Pain de Mie
Plain Ol' Grilled Cheese & Tomato Soup: Buttercup Cheese, Black Pepper + Duke's Mayo on Bobby John Henry "White Bread", House Pickle || Served over our Classic Creamy Tomato Soup "Shot"
PB+J Pudding: Creamy Peanut Butter Pudding, Port Wine Grape Geleè, Peanut Brittle
Of course we had plenty of fine wines to sip on (we'll get to those in a second), but we also had Copper & Kings Brandy (with their craft distilled, "immature" and absinthe blanche varieties), Angel's Envy Bourbon (finished in port wine barrels, of course), Ciroc Vodka (it's made from grapes!), Alexander Grappa and a fruity Prosecco cocktail made with Viniq and La Marca Prosecco. But that's not all... there was also a special grape-themed beer cocktail from Jackalope and even adult grape SnoKones from Tito's Vodka. We even had two fun wine-meets-moonshine offerings from Spodee, where we simply paired them with seltzer for easy cocktails.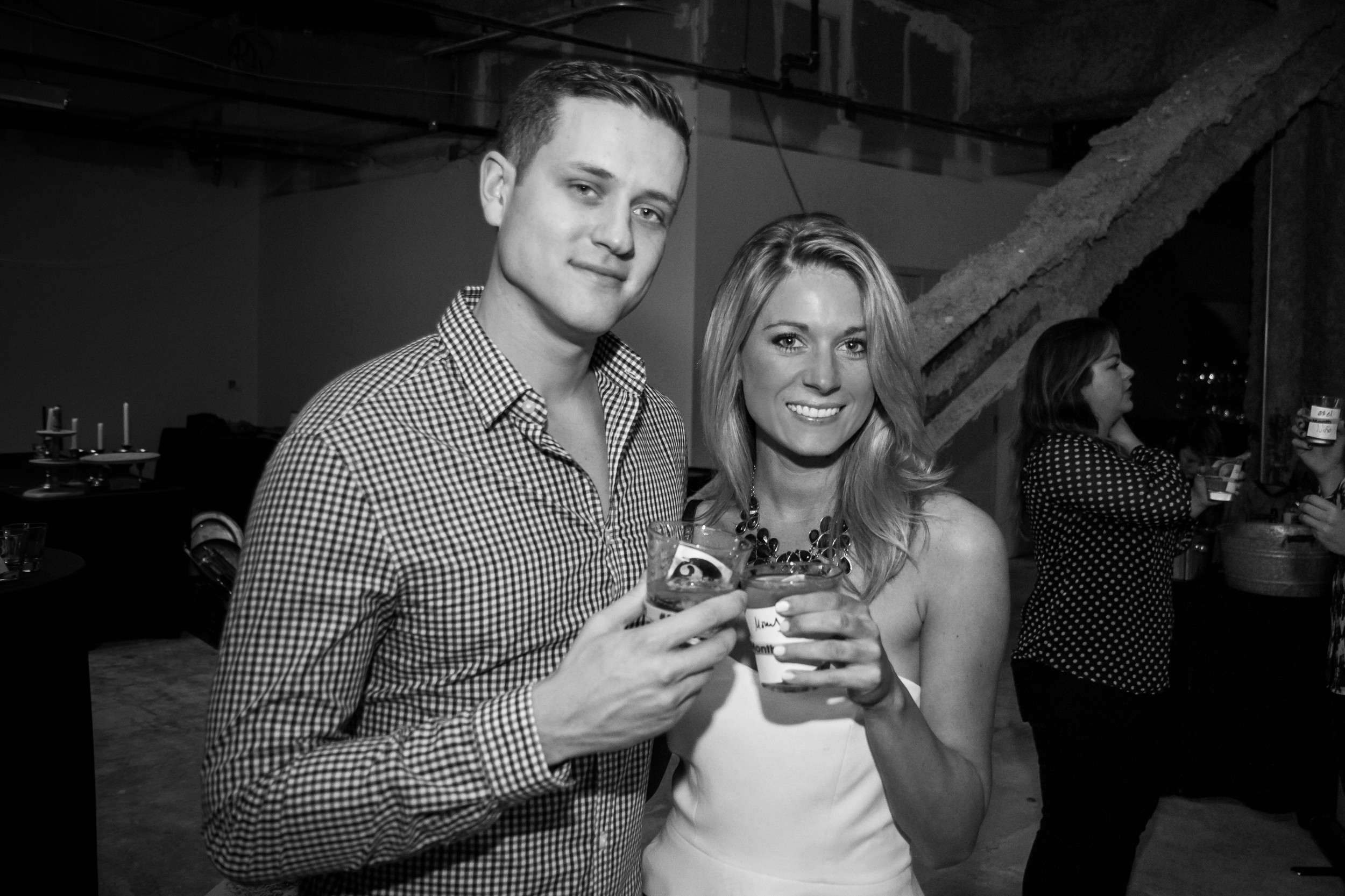 As for the wines, there were a total of 16 different wines to try. If you were there, we've grouped them below in the same way there were set at tables, so you can find all your favorites.